Skip to Content
Care & Use of Your Device
Welcome to Fourroux Prosthetics
This page is meant to help answer questions, and to help you review some of the important information you received while at our facility.
Fourroux believes strongly in building relationships for life. Therefore, we will schedule three follow-up visits starting at two weeks, then one month and three months after your prosthetic delivery, just to check your progress. This allows us to better serve you, and our future patients.
At Fourroux, we understand the everyday challenges that you face. Helping you achieve your freedom and independence is why we are here. Should you have questions, please do not hesitate to give us a call. We are here to assist you.
Fourroux Offers an Extra Level of Support
Fourroux's business extends beyond that of providing a device to those we serve. We know that every amputee is at their own individual level in life, and that every patient requires a different level of support. Fourroux offers support to you in many different areas, and in many different ways including:
Prosthetics education
Goal setting
Emotional and mental support
Physical support
Education for friends and family
Peer to peer support
Industry awareness
Personal matters
Life challenges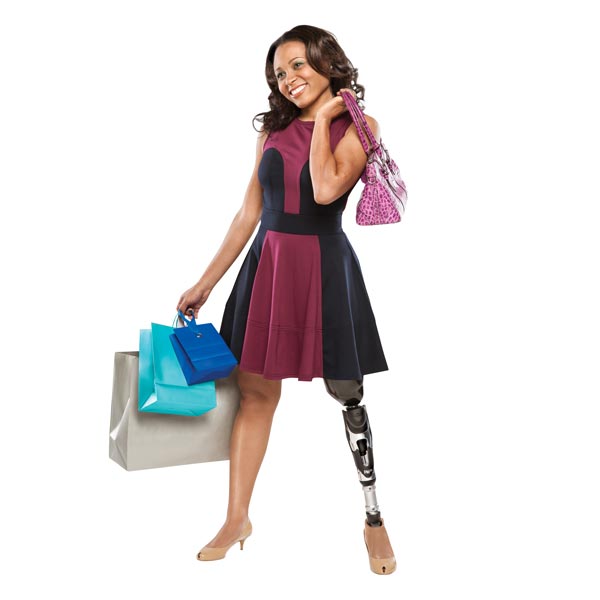 Socket Basics
Your socket is the part of your prosthesis that joins the artificial components to your residual limb. The socket is custom made to fit the anatomy of your limb and secure your prosthesis safely and comfortably.
Fourroux Prosthetics fabricates sockets using layers of carbon fiber and resin with a flexible insert, a gel liner that makes direct contact with your skin, socks, and padding. As your body changes, so too does the fit of your socket. Learning to accommodate for these changes properly will help you maintain the correct fit and function of your prosthesis.
Shape of Your Socket
At Fourroux, we use the latest technology to create a socket that matches the shape of your limb. A correctly fitted socket helps minimize unwanted movement while you walk and distributes weight appropriately to provide increased comfort and functionality.
As time passes, your residual limb will change shape and size. This is normal, but it means that there will be changes in the fit of even the best made sockets. When your residual limb shrinks, it's called losing volume.
You lose volume because of:
Changes in your diet
Muscle loss or atrophy
Surgical revision
Miscellaneous factors

Skin Irritation Issues
Skin irritation on your residual limb is a common occurrence. We will help you to identify some top causes and tell you how you can manage them.
First a word on allergies. If you experience irritation, it is probably NOT due to an allergic reaction. Less than .01% of people are allergic to the materials used in their liners. Friction is another cause of irritation. If you are new to wearing your liner, you may notice some discomfort or irritation along the trim line. New liners are tacky to the touch and may pull at the skin in this area. Use a lubricant like A&D Ointment or Vaseline lightly on your residual limb to reduce these shearing forces. This allows the top edge of the liner to slide along your skin, rather than tug at it.
Perspiration
You'll also need to keep an eye on perspiration inside your liner. Sweating within your liner is normal, especially if you are a new or very active amputee. Sweat can cause skin abrasions, heat rash, liner slippage, and may even cause your limb to come out of your prosthesis. Fortunately, it's easy to control. When you start to sweat in your liner, stop what you are doing and take the liner off. Use a towel to dry your limb. Wipe down the inside surface of your liner while it is inverted. When you are done, roll the liner on again, and put your prosthesis back on.
Pistoning
When your prosthesis is not fitting correctly your limb can move inside the socket too much. This movement causes your skin to be pulled and damaged. As you put bear weight on your prosthesis, your limb drives it into the socket over and over, leading to pain and injury. This is referred to as "pistoning" and can be caused by air trapped within your liner, volume loss, or a poorly fitting socket. Always roll your liner on correctly to keep unwanted air out and apply socks to correct volume loss.
"Life doesn't stop just because you're an amputee and you lose a limb."
— Mia, Above Knee Amputee